About Us
---
Welcome to our lab at the School of Biomedical Engineering at Shenzhen University.
Our lab is dedicated to developing miniaturized in-vitro diagnostic tools using emerging micro/nano-technologies. Specifically, we leverage our expertise in microfluidics, MEMS, nanomaterials, and soft matter, and develop innovative blood coagulation tests and interruptive single-cell sequencing technology.
Located in the Greater Bay Area of China with a fast-growing biotechnology community, our lab is made up of a group of enthusiastic young scientists with the aim of developing fast, accurate, and affordable clinical tests. To learn more, please visit Members.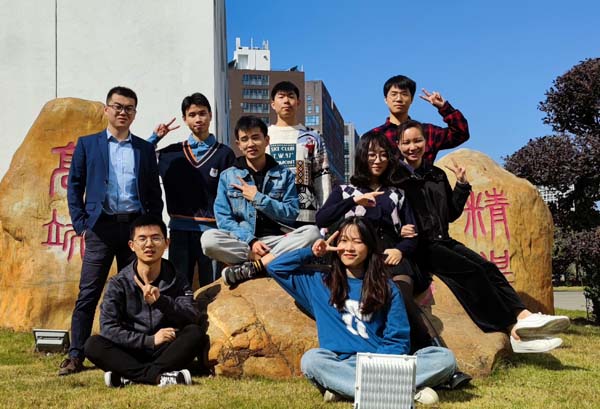 Meet the lab (left to right): Zida Li, Tao Wang, Jinying Cai, Donghao Li, Kai Wu, Linzhe Chen, Meichi Jin, Run Xie, and Lanzhu Huang. (Winter 2021)
Recent News
---
Dec. 2020: Our review paper on COVID-19 diagnostics using emerging biosensors has been accepted by Talanta!
Nov. 2020: Our research article on high throughput clot retraction assay has been accepted by ACS Sensors!
Sep. 2020: Run Xie, Kai Wu, and Donghao Li joined our group as Master's students. Meichi Jin joined as a final year project student. Welcome on board!
Nov. 2019: Our review paper collaborated with Prof. Tiantian Kong on stretchable supercapacitors has been accepted by Advanced Energy Materials!
Oct. 2019: Our group has been awarded Mianshang Grant by the Guangdong Science and Technology Agency!
June 2019: Our group has been awarded the Med Research Grant by the Hygiene and Health Committee of Guangdong Province!
June 2019: Nick and Linzhe joined our group as grad students! Welcome!
Sep. 2018: Lanzhu joined our group as a grad student! Welcome!
July 2018: Lab established!